Subscribers Newsletter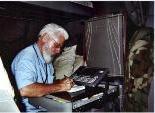 Eucharist Rising: Restoring Eucharist to the Center of Catholicism.
If we are not a Eucharistic People, are we still Catholic? Restoring Eucharist to the Central Place of Honor, and turning Priests to Ad Orientum, will inevitably lead to Eucharist Rising in the hearts and minds of the Faithful.
Vic Biorseth, Wednesday, February 28, 2018
https://www.catholicamericanthinker.com

You ain't going anywhere without Eucharist, buddy.

And that means, first of all, recognizing Him, and acting accordingly.

Those of us born in the 1940s and coming of age in the 1950s and 1960s were catechized and religiously formed in the Latin Mass. We knew Who Eucharist was. He was the central theme in all Catholic Churches, at the focal point of the very architectural design. The Tabernacle on the Altar was where your eyes were drawn when you first walked in. The whole Church was designed to fill the visitor with awe, to silence him, and put him in that special frame of mind that knew it was In The Presence Of Our Lord.

Standing before the Holy Of Holies.

Continue Reading at: Eucharist-Rising
Do Not Respond To This Automatic Email.
Reply to this article at Eucharist-Rising Comments
Find ALL SITE articles at: The Catholic American Thinker CONTENTS.