Subscribers Newsletter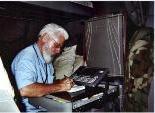 Evil is, definitively, Falsehood; Evil is the Opposite of Permanent Truth.
Evil convincingly argues Religion out of Politics in this temporary, passing world, where Satan reigns.
Vic Biorseth, Monday, July 27, 2015
https://www.catholicamericanthinker.com/
Evil's most successful lie is that Evil does not even exist.
Untold millions believe that lie. And yet the truth of the matter is that evil does indeed exist. If evil did not exist, we would have no need for our Church, we would have no need for our police, we would have no need for our military, we would have no need for any weaponry, and we would have no need to be vigilant and ever watchful. But we do. Evil is always, always, convincing, recruiting, training and sending out surrogates and agents and dupes to advance falsehood. Evil destroys whole nations, from within, one citizen at a time, one family at a time, one culture at a time. Evil raises up evil nations to scourge and conquer the distracted, unbelieving, unprepared world.

(Continue Reading at Original Source: Evil).
Do not reply to this automatic email.
Respond to this article at the actual article:
Respond to Evil.
Find related articles at: The Infiltration of Evil Pages.
Find ALL articles at: The Catholic American Thinker CONTENTS.