Subscribers Newsletter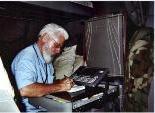 Extremist Faith: In Catholicism & Islamism, Marxism & Americanism.
True Catholicism is the most Extremist religion on earth. So is "true" Islam, the other way. And, Marxism and American Constitutionalism are extremist political opposites.
Vic Biorseth, Sunday, May 21, 2017
https://www.catholicamericanthinker.com
Nothing in this world is more important to you than your religion. Nothing. And if you don't already know that, then you are already on your way to hell.
Sounds pretty Extremist, doesn't it? Well it is, and it's true.
Continue Reading at: Extremist-Faith
Do Not Respond To This Automatic Email.
Reply to this article at Extremist-Faith Comments.
Find ALL SITE articles at: The Catholic American Thinker CONTENTS.