Subscribers Newsletter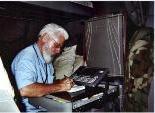 God The Father: On the First Person of the Holy Trinity, and His Title: Father.
The God of Abraham, Isaac and Jacob is our Father, the One and Only Lord of All That Is.
Vic Biorseth, Monday, July 11, 2016
https://www.catholicamericanthinker.com/
From the Old Testament, we know that our God is the God of Noah, the God of Jonah, the God of Abraham, Isaac and Jacob, and the God of Moses. He revealed His name to Moses to be "I Am", written down in Hebrew as YHWH, leaving out the vowels lest any man accidentally pronounce it out loud, forbidden in Old Testament times.
(Continue Reading the Whole Article at Father)
Do not reply to this automatic email.
Respond the original article at: Father Comments.
Find ALL articles at: The Catholic American Thinker CONTENTS.