Subscribers Newsletter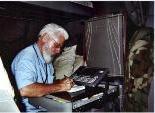 Introducing Glenn Beck Progressivism, illustrating the depth of the hidden movement.
Glenn Beck Progressivism: the unseen and unrecognized advance of Marxism.
Vic Biorseth, OWM; Tuesday, March 25, 2014
https://www.catholicamericanthinker.com
How many times, and how many ways, and how many places in this website have I pointed out the fact that most Marxists do not know that they are Marxists, of whatever variety. Saying that most Communists do not know that they are Communists, most Progressives do not know that they are Progressives, etc., is like saying most dupes do not know that they are dupes.
It should go without saying. If someone knew they were being duped, they wouldn't be duped. The evil genius of the Marxist lie is that it is not recognized as a lie. But if you read Marx's Manifesto, you see that the lie is so big, so broad, so all encompassing that some small part of it, at least, is quite likely to be absorbed by someone, and inculcated into their psyche, unbeknownst to them.

(Continue reading Glenn Beck Progressivism)
Do not reply to this automatic email.
Respond to this article at the actual article:
Glenn Beck Progressivism