Subscribers Newsletter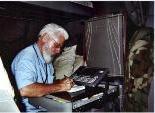 The Great Global Deception: "Death of a thousand cuts" applied to Civilization.
The Global Deception is Machiavellian-ism applied by inches, in which the "Revolution" never quite comes, because the Target Institution destroys itself.
Vic Biorseth, Thursday, May 19, 2016
https://www.catholicamericanthinker.com/
Question: How does the ant eat the elephant?
Answer: One little bite at a time.
As we have said, you will never fully understand the violent social revolutionary strategy of Marxism until you have to read who Marx read, and that would be Machiavelli and Hegel. The whole idea of the take over of a significant government through deceptively instigated "popular" revolution had to be scrapped, because, even with all the Machiavellian evil conniving and deception of the populace, no Marxist "popular revolution" ever succeeded.
(Continue Reading the Whole Article at Global-Deception)
Do not reply to this automatic email.
Respond the original article at: Global-Deception Comments.
Find ALL articles at: The Catholic American Thinker CONTENTS.