Subscribers Newsletter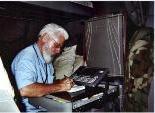 On Good Globalism, Bad Globalism, and Nationalism.
The International "Good" Aims of Catholicism and larger Christianity versus the "Evil" Aims of Communism, Islam and Freemasonry, related to the Natural Civil Order of Sovereign Nations.
Vic Biorseth, Thursday, March 09, 2017
https://www.catholicamericanthinker.com
Religion and Political Ideology, both, are international in nature, and recognize no national borders. But different religions and political ideologies, in their vast diversity, may be mortal enemies of each other. Sovereign Nations with protected borders have proved to be the best way to keep these mortally alienated religions and political ideologies apart, so that Virtue may grow within its own protected borders, and elsewhere, Evil may grow within its own protected borders.
Continue Reading at: Globalism
Do Not Respond To This Automatic Email.
Reply to this article at Globalism Comments.
Find ALL SITE articles at: The Catholic American Thinker CONTENTS.