Subscribers Newsletter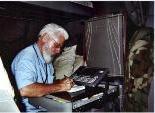 Globalist Pope Francis' Marxist Program to End All Sovereign Nations.
Our Globalist Pope leads the attack on all National Sovereignty to bring an end to all national borders in favor of Total Global Disorder, ostensibly for the good of the Planet and the Poor.
Vic Biorseth, Tuesday, April 11, 2017
www.CatholicAmericanThinker.com
We have spoken of Pope Francis' obvious Marxism among the Papal Imperfections Pages, among other places. His unfailing support of Marxism's total global agenda leads to one possible conclusion, that he may actually be a Radical Marxist Revolutionary in deep disguise. Or, of course, he could be stupid; a mere Marxist Useful Idiot. Or something somewhere in between, like a Progressive.
Continue Reading at: Globalist-Pope
Do Not Respond To This Automatic Email.
Reply to this article at Globalist-Pope Comments.
Find ALL SITE articles at: The Catholic American Thinker CONTENTS.