Subscribers Newsletter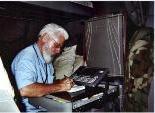 God Denial = Nature Denial = Science Denial = Nonsense.
Falling into God Denial always leads into simple foolishness, and that path ultimately ends in utter insanity.
Vic Biorseth, Friday, March 20, 2015
https://www.catholicamericanthinker.com/
Philosophical insanity, theological insanity, scientific insanity, cultural insanity, social insanity, familial insanity and even individual insanity all have building blocks, and a foundation. Barring some chemical, hormonal or other physical problem at the individual level, it and all higher levels of "group" insanity are highly infectious. Many of the building blocks, as well as the original foundation, may bring about epidemics, pandemics or even plagues of social insanity.

(Continue Reading at Original Source: God-Denial).
Do not reply to this automatic email.
Respond to this article at the actual article:
Respond to God-Denial.