Subscribers Newsletter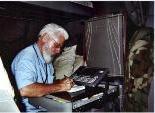 Government by Social Experiment or Constitutional Government: Choose.
All government, whether ecclesial or temporal, may be seen to be morphing into Government by Social Experiment.
Vic Biorseth, Friday, January 15, 2016
https://www.catholicamericanthinker.com/
(Please excuse the previous email; it had an erroneous sub-heading.)
Reality is fixed. So is morality. Morality is the social form of reality.
Objective Truth, i.e., Reality, is completely independent of the human mind. Reality cannot be changed; it may only be thought of differently, and erroneously. "Discoveries", if they be true, involve new realities previously unknown. They do not and cannot involve changes to fixed reality, or proper recognition of any change, in the absence of incontrovertible scientific proof. Man is not the master of reality.

(Continue Reading at Original Source: Government-By-Social-Experiment.).
Do not reply to this automatic email.
Respond to this article at the actual article:
Respond to Government-By-Social-Experiment..
Find ALL articles at: The Catholic American Thinker CONTENTS.