Subscribers Newsletter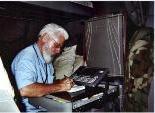 "Offer it up?" What the hell is that? Where is the Grace in That?
When all is woe, you feel abandoned by God, and you say "God, where are you?", there He hangs, suffering on the Cross, abandoned and mocked, saying "People, where are you? Is it all for nothing?"
Vic Biorseth, Tuesday, February 28, 2017
https://www.catholicamericanthinker.com
Was there ever anyone as abandoned and alone and as suffering as the Crucified Christ? Abandoned by His Father. Abandoned by His followers and disciples. Was it all for nothing? Didn't anyone out there even give a damn?
Continue Reading at: Grace-In-Suffering
Do Not Respond To This Automatic Email.
Reply to this article at Grace-In-Suffering Comments.
Find ALL SITE articles at: The Catholic American Thinker CONTENTS.