Subscribers Newsletter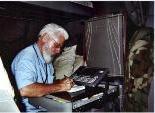 On the Green Foolery, in which Green became the new Red.
The Green Foolery fooled generations of students into joining "Green Revolutions" on phony emergency bases, all to benefit the more hidden but very real Marxist Revolution already under way.
Vic Biorseth, Wednesday, June 07, 2017
https://www.catholicamericanthinker.com
As time goes on, there are fewer and fewer citizens who were educated before Marxism-Leninism's secret Cultural Marxism Program completely took over formal education in America, and all over the world. And so there are fewer and fewer older and wiser citizens who shake their heads in wonder at how so many could be so thoroughly misguided, so solidly and unshakably fooled, on science, nature and natural phenomena.
Continue Reading at: Green-Foolery
Do Not Respond To This Automatic Email.
Reply to this article at Green-Foolery Comments
Find ALL SITE articles at: The Catholic American Thinker CONTENTS.