Subscribers Newsletter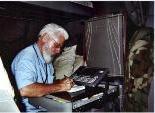 Only the Hard Truth of Catholicism will save souls.
We Americans can join with non-Catholics and Weak Believers in our Politics, but only the Hard Truths of the Catholic Church will deliver souls to Heaven.
Vic Biorseth, Tuesday, January 23, 2018
https://www.catholicamericanthinker.com

We hold that Culture = Religion + Politics. In that formula, religion comes first. If the culture is not comprised of one and only one religion, then accommodation must be made for religions or beliefs that are most compatible and least antagonistic to the main or predominant religion.

And if there is no predominant religion, then what you have is not even an identifiable human culture.

Continue Reading at: Hard-Truth
Do Not Respond To This Automatic Email.
Reply to this article at Hard-Truth Comments
Find ALL SITE articles at: The Catholic American Thinker CONTENTS.