Subscribers Newsletter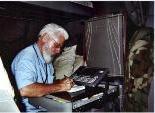 How to Vote in the Primary to Avoid Holding Your Nose in the General.
The Primary Election in Your State is your Only Opportunity to Vote Your Choice. Your Party would prefer that you vote THEIR Choice.
Vic Biorseth, Thursday, March 10, 2016
https://www.catholicamericanthinker.com/
First of all, don't listen to the "experts" or even the supposedly conservative Comentariot, and don't pay any attention whatsoever to the polls and all the predictions. They all work together to become a self-fulfilling prophesy.
"Vote for the most conservative candidate who can win."
Is the worst advice you could ever follow. You don't know who can win, and neither does the one giving that stupid and possibly evil advice. It becomes a self-fulfilling prophesy. If everyone who wants the most conservative candidate to win doesn't vote for the most conservative candidate, guess what, the most conservative candidate will not win. Very simple; nothing to it.
It's an attempt to trick you out of hour real first choice.
(Continue Reading the Whole Article at How-To-Vote)
Do not reply to this automatic email.
Respond the original article at: How-To-Vote Comments.
Find ALL articles at: The Catholic American Thinker CONTENTS.