Subscribers Newsletter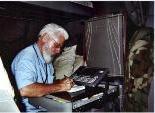 The greatest threat to Constitutional America? Immorality.
Insidious, growing Immorality poses a greater threat than the growing ideologies of Marxism, Islam, Globalism, or any of America's external enemies, combined.
Vic Biorseth, Saturday, March 11, 2017
https://www.catholicamericanthinker.com
If you read our Declaration, you see that our whole national purpose for being is based on Natural Law, issued by the Divine Author of Nature. God's Natural Law is also written on our hearts, but it must be quickened, nurtured and brought to life, in our families, our associations and our Churches. And it must be reflected in our Civil Law, which must never oppose the Natural Law that forms our very national foundation. What we are talking about here is simple Judaeo-Christian morality. How it is that we all know and naturally agree that such things as murder and robbery are immoral, and wrong.
Continue Reading at: Immorality
Do Not Respond To This Automatic Email.
Reply to this article at Immorality Comments.
Find ALL SITE articles at: The Catholic American Thinker CONTENTS.