Subscribers Newsletter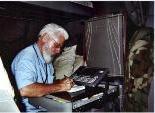 Identifying the Enemy is the first requisite for victory in war.
If you let the enemy join your ranks, lead your forces, preach from your pulpits, hold political office, legislate, execute and adjudicate your laws, then, how have you not become your own enemy?
Vic Biorseth, Wednesday, June 28, 2017
https://www.catholicamericanthinker.com
How did it ever come to be that the blessing and cooperation with an enemy is no longer seen as betrayal or treason?
How did any of us ever allow ourselves to get to the point that we don't believe that there is any such thing as any kind of an enemy?
Where has any majority sense of skepticism, questioning, critical thinking and simple common sense gone?
Are we all now left with not even any sense of self preservation?
Truth Divides!
Continue Reading at: Indentifying-the-Enemy
Do Not Respond To This Automatic Email.
Reply to this article at Indentifying-the-Enemy Comments
Find ALL SITE articles at: The Catholic American Thinker CONTENTS.