Subscribers Newsletter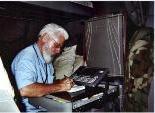 On the Sorosian, Alinskyian, Marxist ever-growing Indiscriminate Herd.
Taming and Domesticating American Rugged Individualists, and turning formerly Self-Governing Americans into Indiscriminate Herd Animals in need of being Ruled.
Vic Biorseth, Saturday, June 20, 2020
https://www.catholicamericanthinker.com
Proper Morality requires proper discernment between right and wrong; natural and unnatural; good and evil. Discernment enables discrimination. Discrimination between good and evil is good; to be indiscriminate, regarding that which is good (true) and evil (false) is to mentally fall into disorder and chaos. The ultimate goal of evil in this world is destroy good, not in reality, which cannot be done, but in the collective mind of mankind. To turn homo sapiens - thinking man - into an unthinking or collective thinking herd animal.
Indiscriminate. Incapable of proper discernment.
Continue Reading at: Indiscriminate
Do Not Respond To This Automatic Email.
Reply to this article at Indiscriminate Comments
Find ALL SITE articles at: The Catholic American Thinker CONTENTS.