Subscribers Newsletter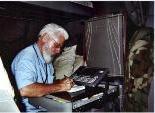 Cultural Marxism: Induced Sociopolitical Stupidity.
Cultural Marxism is, itself, an induced sociopolitical stupidity. Marxist ideology seeks to transform and conquer culture, and the first step is to put emotion in charge of intellect.
Vic Biorseth, Saturday, September 16, 2017
https://www.catholicamericanthinker.com

Once Cultural Marxism owns all formal education, entertainment and journalism, as it does in America, it's easy enough to dumb society down, get it all emotionalized and deaden all critical thinking. It should be clear to any objective observer that the American citizenry is getting dumber and dumber over time, moving in the opposite direction proper education is supposed to move them.

Continue Reading at: Induced-Sociopolitical-Stupidity
Do Not Respond To This Automatic Email.
Reply to this article at Induced-Sociopolitical-Stupidity Comments
Find ALL SITE articles at: The Catholic American Thinker CONTENTS.