Subscribers Newsletter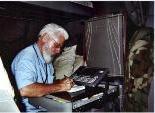 On the Inspired, Brilliant Republic of the Unique and Incomparable USA.
The inspired, ingenuous and seemingly miraculously conceived concept and design of the word's first anti-tyrannical-government government.
Vic Biorseth, Saturday, December 03, 2016
https://www.catholicamericanthinker.com/
For entirely too many generations now evil men have been polluting the minds of children through anti-American education, anti-American "News" reporting and a distinct lack of honest education in America's history, her Declaration of Independence and her Constitution. What has been lost, on multiple generations now, is an honest recognition of the unique and beautiful nature of the nation they were born in. It is a government organization unlike any other in all of world history, and millions of American citizens are blind to it, if not opposed to it.
Untold millions of Americans have been miss-lead into anti-Americanism.
(Continue Reading the Whole Article at Inspired-Brilliant-Republic)
Do not reply to this automatic email.
Respond the original article at: Inspired-Brilliant-Republic Comments.
Find ALL articles at: The Catholic American Thinker CONTENTS.