Subscribers Newsletter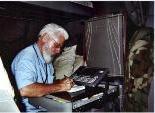 Absolutely Intolerant Indiscrimination destroying human civilization.
Intolerant Indiscrimination? Can we be Intolerant and Indiscriminate at the same time? You betcha.
Vic Biorseth, Friday, April 22, 2016
https://www.catholicamericanthinker.com/
The Left has been sowing seeds of destruction for so long now everyone has forgotten where this crop originated. Marxist infiltration into the American psyche long ago past the point of infiltration, and now appears to be our dominant theme. The sneaky infiltration of Marxism and the "indiscriminate" infiltration of evil have done their work, largely through infected education, and we are now intolerant of good, and intolerant of our own Constitutional guarantees of our own liberties and citizen rights. And we now use them only against ourselves.
In the name of being non-discriminatory, we discriminate against good in favor of evil. In the name of being super-tolerant, we will not tolerate opposition to evil. In the name of non-judgmentalism, we stand in judgment of virtue, which we condemn, and vice, which we applaud.
The World, or the Planet, now stands is judgment of Us; The World now judges Mankind.
(Continue Reading the Whole Article at Intolerant-Indiscrimination)
Do not reply to this automatic email.
Respond the original article at: Intolerant-Indiscrimination Comments.
Find ALL articles at: The Catholic American Thinker CONTENTS.