Subscribers Newsletter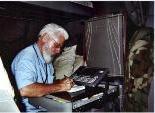 The Islamic Connection between ISIS, Random Terrorism and Global Jihad.
It is the unseen Islamic Connection that is conquering Western Civilization: The Known Terrorist Groups, Native Born Convert Terrorists, Global Jihadists, etc. are all Moslems who read the same Koran.
Vic Biorseth, Saturday, March 25, 2017
www.CatholicAmericanThinker.com
Islam itself has somehow done a real psychological hit-job on the critical thinking abilities of Western national leaders. It has rendered them incapable of right reason and devoid of simple common sense, relating to acts of Jihad, whether large, small, organized, pop-up, or whatever. The universal reaction, every time, is something like:
Continue Reading at: Islamic-Connection
Do Not Respond To This Automatic Email.
Reply to this article at Islamic-Connection Comments.
Find ALL SITE articles at: The Catholic American Thinker CONTENTS.