Subscribers Newsletter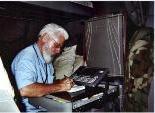 It's all about Marxist Revolution, not sexual license or saving the planet.
"Organizing is a euphemism for Revolution."--Saul Alinsky, who invented Grass-Roots Community Organizing for Eventual Marxist Revolution.
Vic Biorseth, Saturday, March 04, 2017
https://www.catholicamericanthinker.com
For once, I think Michael Voris of Church Militant is wrong, or rather, only partially right about something. What's going on in the Catholic Church in California is not merely related to the advance of favoring sexual license and blatant immorality among Catholic Bishops, Archbishops and Cardinals. That's just a symptom of a much deeper and much more serious problem.
Continue Reading at: Its-All-About-Revolution
Do Not Respond To This Automatic Email.
Reply to this article at Its-All-About-Revolution Comments.
Find ALL SITE articles at: The Catholic American Thinker CONTENTS.