Subscribers Newsletter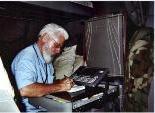 The common link between Paris, San Bernardino, 9/11, etc.: Islamic Jihad.
It was common, ordinary, every day Jihad. No one was radicalized; nothing was hijacked; no one went berserk..
Vic Biorseth, Saturday, December 05, 2015, 2015
https://www.catholicamericanthinker.com/
I don't understand why everyone doesn't just see this for what it is. All you have to do is read the Koran. Jihad is all over it. There are 164 Jihad Verses in it. Jihad is the central doctrine or dogma of Islam. Where the central dogmas of Protestantism are Sola Scriptura and Sola Fide, and the central dogma of Catholicism is the Eucharist, Islam's whole purpose for being involves bringing the whole world into the domain of Islam by war. Very simple; nothing to it.

(Continue Reading at Original Source: Jihad.).
Do not reply to this automatic email.
Respond to this article at the actual article:
Respond to Jihad..
Find ALL articles at: The Catholic American Thinker CONTENTS.