Subscribers Newsletter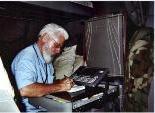 On Growing the Economy and Creating Jobs Without Immigration.
"Americans won't do that work" is a purposely caused problem. If we can't create jobs without immigration, then how did we create all those jobs before 1965?
Vic Biorseth, Thursday, December 31, 2015
https://www.catholicamericanthinker.com/
"Americans won't do that work" is the perfect, classic example of the self-fulfilling prophesy variety of a very slick lie. First, you tell the lie. Then, you agitate to make the work illegal at a natural wage for the product of the work. Then, you convince the workers that they have a "right" to the unreasonable wage. Over time, a Wuss Generation of American workers is created, spoiled and expecting everything in life to be handed to them, and, the Government assumes more and more unconstitutional control over the price of labor.

(Continue Reading at Original Source: Jobs-Without-Immigration.).
Do not reply to this automatic email.
Respond to this article at the actual article:
Respond to Jobs-Without-Immigration..
Find ALL articles at: The Catholic American Thinker CONTENTS.