Subscribers Newsletter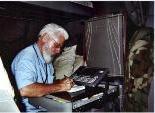 Making the Kill Shot, versus Hesitation: On winning or losing the battle.
Hesitation at pulling the trigger means failing to make the kill shot, and each time, it may have been your last chance.
Vic Biorseth, Tuesday, August 16, 2016
https://www.catholicamericanthinker.com/
On the battlefield, hesitation can make you dead. Once the battle is joined, there is no time for analysis paralysis. The decision for war has been made somewhere above your pay grade, and it is time for you to do your duty. Things have a way of becoming crystal clear at that point. There is a lot riding on every shot taken, or not taken. Your life, maybe. Other members of the unit. A battle. A war. A nation.
The world.
The deadly menace America and Western Civilization faces today is due entirely to hesitation, analysis paralysis, indecision and wishful thinking, way, way above our pay grade. We see the mortal threats clearly, but our world leaders do not, or, they are traitors and they are in on it.
(Continue Reading the Whole Article at Kill-Shot)
Do not reply to this automatic email.
Respond the original article at: Kill-Shot Comments.
Find ALL articles at: The Catholic American Thinker CONTENTS.