Subscribers Newsletter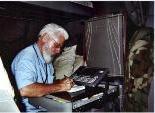 The Kumbaya Time Bomb: Inclusiveness building deadly Divisiveness.
Universal Inclusiveness - the Kumbaya Time Bomb - is a dirty trick that benefits only the Ruthless Conquerors who intend to capitalize on the resulting inevitable Chaos and Divisiveness.
Vic Biorseth, Thursday, October 26, 2017
https://www.catholicamericanthinker.com

This is my argument holding that the whole Universal Inclusiveness trend in world society has a sinister plan behind it, aimed at inevitable natural social division, cultural upheaval and revolution. Divisiveness, in other words. Social factions dividing, on their own, and by force.

Inclusiveness aimed at eventual Divisiveness, to benefit of the rise of Salvific Dictatorship.

Continue Reading at: Kumbaya-Time-Bomb
Do Not Respond To This Automatic Email.
Reply to this article at Kumbaya-Time-Bomb Comments
Find ALL SITE articles at: The Catholic American Thinker CONTENTS.