Subscribers Newsletter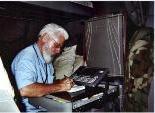 Leftist Rioters need our empathy; law enforcement against them is a no-no.
Leftist rioters and anarchists are publicly sympathized with, even at the expense of civil order, public safety and property rights.
Vic Biorseth, Friday, March 18, 2016
https://www.catholicamericanthinker.com/
How many times have we seen it now? How many more times does it need to be repeated, before we see the trajectory, and understand the plan?
I was first aware of it with the dope-smoking Beatniks of the forties and fifties. The Hippies and Yippies and SDS and Weather Underground of the sixties are now actually running the show; they are running universities, holding high political office and occupying high positions in news and entertainment. They are now a major component of The Club that runs the Parties, that run the government, that runs us, and is paid by us.
(Continue Reading the Whole Article at Leftist-Rioters)
Do not reply to this automatic email.
Respond the original article at: Leftist-Rioters Comments.
Find ALL articles at: The Catholic American Thinker CONTENTS.