Subscribers Newsletter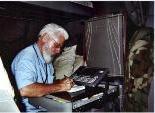 The "Let's Pretend" PSYOPS Aspect of the Pandemic, and the Revolution.
This particular Communist Covid19 bio-weapon is proving more psychologically deadly than biologically deadly, due to all the "Let's Pretend" deadliness of it.
Vic Biorseth, Friday, October 09, 2020
https://www.catholicamericanthinker.com
When I was a little boy I liked to play "Let's Pretend", and what I liked to pretend was that I was Roy Rogers. And my sister Wanda would pretend to be Dale Evans. And we would "Let's Pretend" our way through cowboy adventures, in which we would beat the stuffing out of the bad guys, chief among them, teddy bears. It was just pretend, but, in our young minds, it was real; I really was Roy Rogers, and Wanda really was Dale Evans, and the teddy bear really was a rustler or a bank robber.
Continue Reading at: Lets-Pretend
Do Not Respond To This Automatic Email.
Reply to this article at Lets-Pretend Comments
Find ALL SITE articles at: The Catholic American Thinker CONTENTS.