Subscribers Newsletter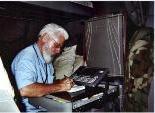 The Limbaugh Theorem is now going on steroids.
In the Limbaugh Theorem, social destroyers successfully blame the carnage they cause on the ones who are trying to stop it, and they are believed by their ever growing voter-base.
Vic Biorseth, Saturday, February 13, 2016
https://www.catholicamericanthinker.com/
Actually, as Rush himself describes it, the Social Destroyer causes the destruction, but manages, with News Media cooperation, to remain aloof from it and appear to be the only one trying to stop it. "Mysterious Forces" are causing it, not him, and he is angry about it, and by golly and gosharooties, he's going to get to the bottom of it and fix it. But all these Mysterious Forces are aligned against him in this effort, and since they are succeeding, he needs even more support, even more tax money, even more authority, even more popular support to get it done. See?
(Continue Reading the Whole Article at Limbaugh-Theorem)
Do not reply to this automatic email.
Respond the original article at: Limbaugh-Theorem Comments.
Find ALL articles at: The Catholic American Thinker CONTENTS.