Subscribers Newsletter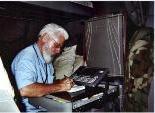 Marxists running the Vatican's Pontifical Academy of Social Science?
Died in the wool Marxists in the Vatican's P.A.S.S.! No wonder Pope Francis favors the Socializing Frauds of "Sustainable Development", "Climate Change", etc.
Vic Biorseth, Tuesday, December 22, 2015
https://www.catholicamericanthinker.com/

"With disdain I will throw my gauntlet
Full in the face of the world,
And see the collapse of this pygmy giant
Whose fall will not stifle my ardor.

Then will I wander godlike and victorious
Through the ruins of the world
And, giving my words an active force,
I will feel equal to the Creator."

-Karl Marx, "Human Pride," 1837



(Continue Reading at Original Source: Marxist-Pontifical-Scientists.).

Do not reply to this automatic email.

Respond to this article at the actual article:
Respond to Marxist-Pontifical-Scientists..

Find ALL articles at: The Catholic American Thinker CONTENTS.