Subscribers Newsletter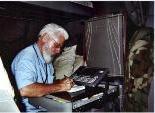 The Marxocrat Party Media and Crazy Bernie, who was in on the scheme.
Why all the surprise? Parties ALWAYS rig elections. And I knew the Marxocrat Party Media favored Communism over America way back in 1959.
Vic Biorseth, Tuesday, July 26, 2016
https://www.catholicamericanthinker.com/
Why all the surprise over the Wikileaks Enail dump exposing the Party - Media fix of the whole nomination process?
"Journalists" were getting their political public stories approved by the Party before publishing them. The Party was giving "Journalists" political points to hit in the "News". They colluded to create disinformation to convince not only voters, but Party Delegates, to favor the chosen candidate and to favor that candidate's agenda. The back-and-forth communications showed that candidates were feeding the media approved questions for their own interviews, and "investigative points" for negative stories about opponents.
So, what's new about any of that?
(Continue Reading the Whole Article at Marxocrat-Party-Media)
Do not reply to this automatic email.
Respond the original article at: Marxocrat-Party-Media Comments.
Find ALL articles at: The Catholic American Thinker CONTENTS.