Subscribers Newsletter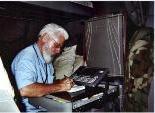 Bringing back McCarthyite Blacklisting to Restore Constitutional America.
The Resurrection of McCarthyite Blacklisting would be the best way to encourage all of our Rabid Anti-American Americans to Self-Deport.
Vic Biorseth, Friday, September 22, 2017
https://www.catholicamericanthinker.com

Senator Joe McCarthy may have been one of America's most unrecognized Constitutional heroes, and one of the most unfairly and universally demonized heroes in our nation's history. Today, the "McCarthy Hearings" live not in fame, but in infamy, having lost the fight with the then already socially-controlling Cultural Marxism.

Continue Reading at: McCarhyite-Blacklisting
Do Not Respond To This Automatic Email.
Reply to this article at McCarhyite-Blacklisting Comments
Find ALL SITE articles at: The Catholic American Thinker CONTENTS.