Subscribers Newsletter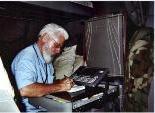 Criminal Marxocrat Party's News Media Helps Wreck the 2020 Election
By what authority do they get to "call" any election? Who elected them to anything? What part of any Government are they? Who the hell do they think they are?
Vic Biorseth, Thursday, November 05, 2020
https://www.catholicamericanthinker.com
Well, it's now the Thursday after the Tuesday election day 2020, and guess what, we still don't know who won. But we do know, of course, that the election in Wisconsin was called for Biden, because the Media says so. But what we also know is that more votes were counted in Wisconsin than the actual number of Wisconsin registered voters, and that interesting little fact is not being reported by the Media.
Continue Reading at: Media
Do Not Respond To This Automatic Email.
Reply to this article at Media Comments
Find ALL SITE articles at: The Catholic American Thinker CONTENTS.