Subscribers Newsletter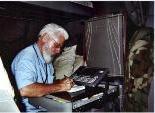 On the Minimum Wage Trick: Racist from birth, still racist to the core.
Walter Williams lays it out so even dim-bulb Marxocrats and Republicrats can understand it. (But then, they're in on the scam.)
Vic Biorseth, Wednesday, January 13, 2016
https://www.catholicamericanthinker.com/
Walter Williams, an actual real live Economist, as opposed to most of the Political Party-Owned public reciters of false economic theory, has nailed the racism behind the Minimum Wage Trick. He lays it out in http://townhall.com/columnists/walterewilliams/2016/01/13/minimum-wage-dishonesty-n2102804/page/full for us.
He correctly identifies the Minimum Wage as the most effective, cheapest and best camouflaged weapon in the whole arsenal of racists.

(Continue Reading at Original Source: Minimum-Wage-Trick.).
Do not reply to this automatic email.
Respond to this article at the actual article:
Respond to Minimum-Wage-Trick..
Find ALL articles at: The Catholic American Thinker CONTENTS.