Subscribers Newsletter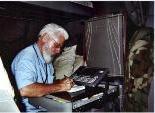 The Ultimately Fatal Moderate Position.
The deadly lure of "fair" sounding moderation always leads away from absolute Truth. Truth cannot be compromised. Anything that can be moderated cannot be true.
Vic Biorseth, Saturday, December 30, 2017
https://www.catholicamericanthinker.com

The very idea that all religions are the same should be seen to be so grossly and obviously fatally flawed as to be stupid, and yet, untold millions of people actually believe that all religions are equal. That they are of equal value, with none superior to any other, and none that can claim to be exclusively true.

Continue Reading at: Moderate
Do Not Respond To This Automatic Email.
Reply to this article at Moderate Comments
Find ALL SITE articles at: The Catholic American Thinker CONTENTS.