Subscribers Newsletter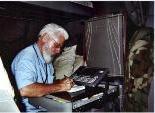 America's Chief Mortal Enemy: ISIS? Iran? N. Korea? Russia? China?
No. America's Mortal Enemy Number 1 is Comrade Obama (peace be upon him) and his whole Marxocrat Party.
And the Republicrat Party is right in there with them, as non-resistors and "Bipartisan" cooperators in the systematic destruction of Constitutional America.
Vic Biorseth, Monday, August 29, 2016
https://www.catholicamericanthinker.com/
I don't know why everyone doesn't see this; it's just as plain as the nose on your face. Obama hates America. He hates us. Everything he does proves it. You cannot point to a member of his family, a mentor, any close friend, teacher, associate, colleague or advisor who is in any way a friend of America, or even of Western Civilization.
(Continue Reading the Whole Article at Mortal-Enemy)
Do not reply to this automatic email.
Respond the original article at: Mortal-Enemy Comments.
Find ALL articles at: The Catholic American Thinker CONTENTS.