Subscribers Newsletter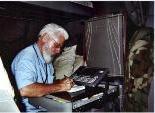 The Moslem-Marxist Barbaric Collusion against Human Civilization.
All the evidence points to a deep Moslem-Marxist Barbaric Collusion against religions, nations, and even civilization itself.
Vic Biorseth, Sunday, April 23, 2017
https://www.catholicamericanthinker.com
We have pointed out, over and over again, the lying nature of Marxism, and the lying nature of Islam. Marxist Revolutionaries seldom if ever tell the truth to their recruited and organized "Useful Idiots" and "Agent Provocateurs" about their true intentions, which may involve the slaughter of the recruits themselves in the final violent takeover. And Taqiyya is the Islamic doctrine of lying to unbelievers about the true barbaric nature of Islam, and about what Islam ultimately intends to do to unbelievers.
Continue Reading at: Moslem-Marxist-Barbaric-Collusion
Do Not Respond To This Automatic Email.
Reply to this article at Moslem-Marxist-Barbaric-Collusion Comments.
Find ALL SITE articles at: The Catholic American Thinker CONTENTS.