Subscribers Newsletter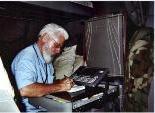 Cyber Security: A Globally Accessible Totally Secure system is an oxymoron.
A computer system may be globally accessible or totally secure, but not both at the same time.
Vic Biorseth, Saturday, January 14, 2017
https://www.catholicamericanthinker.com/
The new National Cyber Security guru may have a tiger by the tail. I remember way, way back in the olden Mainframe-Computer days, seeing this problem coming. In the Y2K crisis days, one of the client companies I contracted to was looking to do three things, besides find and change all code containing dates. They wanted to:
Continue Reading at: National-Cyber-Security
Do Not Respond To This Automatic Email.
Reply to this article at National-Cyber-Security
Find ALL SITE articles at: The Catholic American Thinker CONTENTS.