Subscribers Newsletter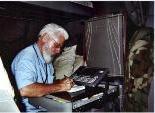 Communism is Globalist. The New Globalism is the New Communism.
Old Communism failed to unite the "Workers Of The Word". The New Globalism seeks to unite the "Saviors Of The Planet" on a Hyper-Emergency Basis.
Vic Biorseth, Wednesday, May 20, 2020
https://www.catholicamericanthinker.com
The true hidden goal of the New Globalism is the same as that of Old Communism: to convince and herd the world population into one global commune and establish one absolute and tyrannical global government. It requires the taming of independent thought and the establishment of dependent thought, whether by convincing argument or by force.
Continue Reading at: New-Globalism
Do Not Respond To This Automatic Email.
Reply to this article at New-Globalism Comments
Find ALL SITE articles at: The Catholic American Thinker CONTENTS.