Subscribers Newsletter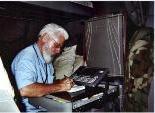 All the New Gospels, leading men to perdition.
The Gospel is inspired by God. There can be no later "Replacement" New Gospels inspired by mere men.
Vic Biorseth, Sunday, November 17, 2019
https://www.catholicamericanthinker.com
I wonder that you are so soon removed from him that called you into the grace of Christ, unto another gospel. Which is not another, only there are some that trouble you, and would pervert the gospel of Christ. But though we, or an angel from heaven, preach a gospel to you besides that which we have preached to you, let him be anathema. As we said before, so now I say again: if anyone preach to you a gospel, besides that which you have received, let him be anathema. For do I now persuade men, or God? Or do I seek to please men? If I yet pleased men, I should not be the servant of Christ.
Continue Reading at: New-Gospel
Do Not Respond To This Automatic Email.
Reply to this article at New-Gospel Comments
Find ALL SITE articles at: The Catholic American Thinker CONTENTS.