Subscribers Newsletter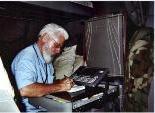 New Way American Politics: Restoring and Advancing Cultural Americanism.
A New Way of doing our Politics after anathematizing Political Parties, Marxism, Islam and Globalism.
Vic Biorseth, Tuesday, March 17, 2015
https://www.catholicamericanthinker.com/
Actually, it's an Old Way. THE Old Way; the original way, following the advice of George Washington to avoid the establishment of Political Parties and to very strictly stick to American Cultural Principles. Parties have agendas, and agendas change with membership interests and values. But the idea of Constitutional America must be a fixed peg upon which the citizenry may depend for order and stability. It is the Declaration that creates the revolutionary idea of America, and it is the Constitution that cements it and breaths life into it.
Ignoring Washington's advice and raising Political Parties to preeminence in the political workings of America have brought us to

(Continue Reading at Original Source: New Way).
Do not reply to this automatic email.
Respond to this article at the actual article:
Respond to New Way.