Subscribers Newsletter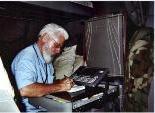 Recognizing the Bipartisan or Nonpartisan Treason Destroying Civilization.
The seductive desire for brotherly peaceful cooperation corrupts the world through nonpartisan treason.
Vic Biorseth, Sunday, April 26, 2015
https://www.catholicamericanthinker.com/
There is a difference between good and evil.
There is a difference between what is right and what is wrong, and they cannot be "blended" in such a way as to change that fact. What it all boils down to is the difference between truth and falsehood. Nothing can ever be both true and false at the same time; it must be either one or the other.
That which is true is good; that which is false is evil.
The nonpartisan spirit is a spirit of evil that seeks to blend truth and falsehood into various mixtures of "not so bad" and thus acceptable almost truths or semi-truths or kind-of-sort-of truths, to gradually become the newer truths of common knowledge. This is the treacherous strategic "progress" of the evil Progressive Movement.

(Continue Reading at Original Source: Nonpartisan-Treason).
Do not reply to this automatic email.
Respond to this article at the actual article:
Respond to Nonpartisan-Treason.