Subscribers Newsletter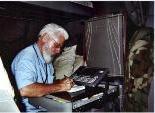 Comrade Obama Unmasked: Confirming what we strongly suspected.
New Book documents the Deep Communism and Global conspiratorial aspirations of Comrade President Obama, encompassing even the Catholic Church.
Vic Biorseth, Thursday, August 03, 2017
https://www.catholicamericanthinker.com

I was pleasantly surprised to receive this book in the mail. Then, I was surprised to find all the solid confirmation of all the suspicions and the clearly obvious favoring of Marxism and Islam over America on the part of Comrade Obama, peace be upon him. The documentation cannot be denied. Then I was surprised to find myself quoted in the book, in things stated in this website.

But for me, the biggest surprise this book brings forth is the global scope of the ongoing conspiracy of evil, still-alive, never-really-dead, perhaps bigger-than-ever, globally-dangerous, old-time Communism. How many Americans now think there is no such thing as Communism any more? How many think it always was a boogeyman story, conjured up by McCarthyite conspiracy theorists to scare people?

How many write it off as a long dead historical oddity?

Continue Reading at: Obama-Unmasked
Do Not Respond To This Automatic Email.
Reply to this article at Obama-Unmasked Comments
Find ALL SITE articles at: The Catholic American Thinker CONTENTS.