Subscribers Newsletter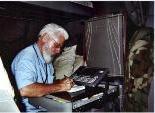 Obamunist Assassins: Could pre-planned assassinations bring him back to power?
Does a President of a Capitalist Christian nation, who was raised by Communists and educated by Moslems, really intend to permanently leave office?
Vic Biorseth, Thursday, January 14, 2016
https://www.catholicamericanthinker.com/
I'm just ruminating here on possibilities; I claim no evidence of conspiracy, nor do I claim any prophetic abilities. But I think history will bear out the fact that Comrade Obama, peace be upon him, is by far the most rabidly anti-American President in American history. He opposes everything we stand for, from our Christian denominational religions, to our Declaration of Independence, to our Constitution.
What he consistently shows that he favors over America is Marxism and Islam. He shows it in a thousand little ways. And what do Marxism and Islam have in common?

(Continue Reading at Original Source: Obamunist-Assassins.).
Do not reply to this automatic email.
Respond to this article at the actual article:
Respond to Obamunist-Assassins..
Find ALL articles at: The Catholic American Thinker CONTENTS.