Subscribers Newsletter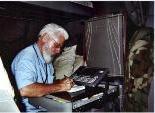 Is it a Living, Organic, Evolving Constitution, or a Fixed Legal Document?
The REAL American Political argument revolves round the Anti-American, Darwinistic belief in a Living, Organic, Evolving American Constitution.
Vic Biorseth, Tuesday, February 02, 2016
https://www.catholicamericanthinker.com/
Today's arguments about whether our federal government is qualified and Constituted to take over our education, or our health care, or our insurance, or the kind of light bulbs we use, or our energy production and consumption, or the climate of the world, or the elimination of our sovereign borders, etc., etc., etc., all fall short of the real underlying argument.
The American Constitution is either a fixed legal document, written in English, that says very specific legal things, or it is not. It is either the supreme law of the land, or it is not. Elected and appointed and installed officers who are required to swear an oath of office to protect and enforce the Constitution either keep that oath, or they violate it. Any President, Senator, Congressman, Justice or other official who
(Continue Reading the Whole Article at Organic-Evolving-Constitution)
Do not reply to this automatic email.
Respond the original article at: Organic-Evolving-Constitution Comments.
Find ALL articles at: The Catholic American Thinker CONTENTS.