Subscribers Newsletter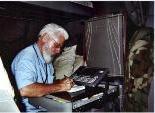 Looking more closely at Pope Francis' chosen Papal Pals.
If a critter walks like a duck, talks like a duck and is constantly seen in the company of other ducks, the logical conclusion is that he most probably is a duck.
Vic Biorseth, Saturday, March 18, 2017
www.CatholicAmericanThinker.com
In Globalist Stupidassism we talked about the "scientists" invited to the Vatican to promote Globalism and Global Government over sovereign nations with borders, via outright fraudulent theories, and under the auspices of the Church. And that was and is quite a cause for alarm. It is a direct attack on human civilization itself, under the mask of multiple false global crises, from which "science" promises to save the glorious planet from evil mankind.
Continue Reading at: Papal-Pals
Do Not Respond To This Automatic Email.
Reply to this article at Papal-Pals Comments.
Find ALL SITE articles at: The Catholic American Thinker CONTENTS.