Subscribers Newsletter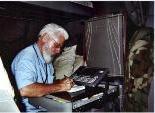 A Personal Relationship with Jesus Christ deepens faith and faith commitment.
A Personal Relationship with America deepens love of country and patriotic commitment.
Vic Biorseth, OWM; Saturday, November 08, 2014
https://www.catholicamericanthinker.com/
What is this "personal relationship" with Jesus the Protestants are always talking about? Many Catholics talk about it too, and some go on and on about what a difference it made in their lives. For many years this puzzled me; I had faith, I believed, and I thought I understood and embraced the full Gospel of Jesus Christ.

(Continue Reading at Original Source: Personal Relationship).
Do not reply to this automatic email.
Respond to this article at the actual article:
Respond to Personal Relationship.