Subscribers Newsletter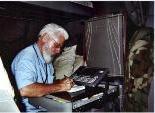 Only clear, distinct political battle lines will save Constitutional America.
Fuzzy, indistinct political battle lines only encourage and feed the "bipartisan" progressive destruction of this last bastion of Human Liberty.
Vic Biorseth, Friday, July 03, 2015
https://www.catholicamericanthinker.com/
Where, exactly, are the political battle lines drawn?
We tried to lay out the various predominant political philosophies in America in the American Political Ideologies page, using a couple of multi-column tables. The problem is that many professional politicos are adept at fuzzy language and obfuscation of position, and many not so professional candidates' actual positions are vague, so that they "bleed" into more than one column of those tables. Whether a candidate's political position is vague because of slick language or because of weak, indecisive or still developing formulations doesn't really matter much. If he can't state his position in crystal clear language right up front he should be dropped from consideration in favor of someone stronger.

(Continue Reading at Original Source: Political Battle Lines).
Do not reply to this automatic email.
Respond to this article at the actual article:
Respond to Political Battle Lines.
Find related articles at: The Political Ideology Pages.
Find ALL articles at: The Catholic American Thinker CONTENTS.