Subscribers Newsletter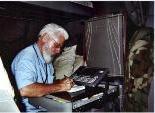 The Political Party System that Runs America Despite the American Constitution.
Cruz's Pro-Constitution agenda, and Rush's Anti-Liberal/Democrat Party agenda, aren't going anywhere while the Political Party System Itself Still Exists.
Vic Biorseth, Monday, March 21, 2016
https://www.catholicamericanthinker.com/
Go read the Preamble to the Constitution. Do either of our Political Parties, or any existing Political Party, seek to "Establish Justice"? "Insure Domestic Tranquility"? "Promote the General Welfare"? "Provide for the Common Defense"? "Secure the Blessings of Liberty"?
No?
Are any of them or all of them, collectively or individually, even mentioned in Article One Section Eight, or anywhere else in the Constitution?
No?
Then, why, and by what authority, are the Parties running the whole American government, completely outside the bounds of the Constitution, which declares itself to be the Supreme Law of the Land?
(Continue Reading the Whole Article at Political-Party-System)
Do not reply to this automatic email.
Respond the original article at: Political-Party-System Comments.
Find ALL articles at: The Catholic American Thinker CONTENTS.