Subscribers Newsletter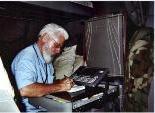 Politics Defined: Nations are Political Entities; War and Peace are Political.
Religion orders human behavior. Politics control human behavior. Politics, Defined, is where Eternal Truth meets Temporary Worldly Ambitions and Rulers.
Vic Biorseth, Friday, April 07, 2017
www.CatholicAmericanThinker.com
Unique human culture = (Religion + Politics) = Ethos = A Nation.
It is Ethos that identifies a nation and makes it unique among nations.
I know, I know, Culture=Religion+Politics has been hammered all over this site. But the sneaky Cultural Marxist, Globalist, New World Order, All Inclusiveness, Beautiful Diversity, Disneyesque, "It's a small world after all" Movement has done it's evil work, demolishing any sense of Common Peoplehood within our American nation. And within just about all other Western nations.
Continue Reading at: Politics-Defined
Do Not Respond To This Automatic Email.
Reply to this article at Politics-Defined Comments.
Find ALL SITE articles at: The Catholic American Thinker CONTENTS.